SCA Performance Trucks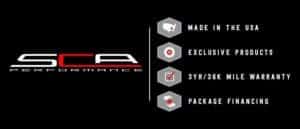 The Ram 1500 Black Widow Pick-Up Truck Shines With Confidence and Power
Since 1979, SCA Performance has been recognized as the premier Special Vehicles Manufacturer of Ford Trucks. On this 40-year journey of pursuing our Passion and perfecting our Craft, we've built over 120,000 custom vehicles from our 150,000 square foot, state-of-the-art manufacturing facility headquartered in Trussville, AL.
If your goal is to rev up your engine with style, confidence and power than the SCA performance Black Widow Ram 1500, will be sure to offer a splendid full-package vehicle; a tough truck to add to your collection. This version is superior as the SCA performance model is exclusive and custom-made to fit every real truck drivers preferences and needs.
When you are driving a truck, it needs to have a purpose for everything; the Ram 1500 exists with intention. Every part that was installed into the SCA performance Ram 1500 meets top industry standards and was handled with high-quality logistics and care.
You'll be able to utilize this pick-up truck to the max. The towing power has been enhanced and can carry heavier things this time around. The truck will not let anything stand in your way.
The powerful design was built with CAD software and OEM mathematical data and analyzation for professional precision. For greater auto knowledge, contact Gregg Young Grand Island and expert truck and car specialists will answer your inquiries today.
Black Widow Special Benefits:
• 6-inch lift/suspension
• Bolt styled fender flares
• LED lights (projectors)
• Custom exhaust for a powerful sound
• Black Widow logos/trim (interior/exterior)
• Apple car play is installed
• Experience better tunes with Sirius XM
• Premium Alpine system (the audio system is top-quality)
• Huge cabin space (4-doors)
• Calibration (SCA performance build)
• Truck hood vents
• 20-inch wheels (Black Widow version)
If off-roading is your forte, then not only will drivers enjoy driving this truck through nature's terrain, they will gain satisfaction from being able to bring more equipment along for the ride. Being comfortable inside of this truck is never an issue; stretch out and relax.
The suspension system, lift, and solid frame offers optimal protection and support for the driver, passengers, and the truck itself. When you are off-roading, rocks and sand are a given; having a tough frame and a chiseled design will keep your truck looking brand new, well, as long as you get a wash afterward.
For experts that know the mechanical aspects inside and out, click here to learn more insightful information.
This truck is exclusive and custom-made for driver perfection. Step on in and soon your driver confidence will expand; helping drivers feel safe and in style at the same time.
The Ram 1500 is confidence and power wrapped into a truck that helps you get from here to there. Guarantee yourself secure support when you choose the SCA performance model that is unique and unlike any other truck version experienced. Drive safely, no matter what weather condition you are in.
All drivers who need help with special financing, give Gregg Young of Grand Island a call to learn more about the SCA performance version and learn why the Ram 1500 powers along better than other truck designs.